Greetings From Radiodent!
Dentistry has evolved by leaps and bounds over the years and so has the field of maxillofacial radiology. The New age dentistry is all about precision and perfection, and to achieve this perfection, precise high resolution imaging is mandatory.
Cone beam computerized technology (CBCT) offers 3-dimensional visualization and more accurate imaging compared to analog and digital radiographs.
We are one of the very few dental radiography clinics that provides low radiation Cone Beam CT Scans (CBCT) in Gurugram. Equipped with NewTomGiano from the pioneer of makers of CBCT, we assure you images with highest resolution with appropriate field of view as per the requirement for selection to meet your diagnostic imaging needs. A pioneer in state of the art 3D imaging solutions, we are also equipped with advanced technologies like intraoral scanning solutions and 3d printing and various 2D imaging modalities like OPG, Lateral Cephalograms, TMJ views and Skull Radiography.In addition to our cone beam CT scans we also offer training for the software used to display and assess 3D scans.
We will strive to reach out and provide professionals with the opportunity to fully explore and expand the capabilities of this cutting edge imaging technology with minimum radiation doses to our patients.
 Meet Our Doctor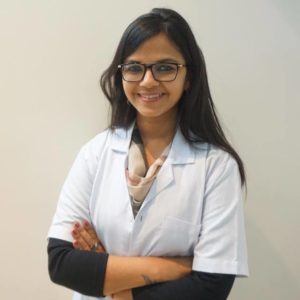 Maxillofacial  Radiologist